NAME THIS PUBLICATION

- We still need a name for the BRWA eNewsletter. We're offering a free annual membership and other goodies for the best suggestion from our subscribers. Email your ideas to the Editor before April 8.
BRWA NEWS
BRWA Receives Two Grant Awards!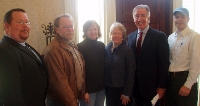 The BRWA is proud to announce the award of two grants from the John H. Chafee Blackstone River Valley National Heritage Corridor Commission. The award for the "Invading the Invasive Aquatic Plants of the Valley" proposal will support the launch of a new endeavor to raise awareness of the threat that invasive plants, map areas of infestation, and promote proactive eco-friendly management practices to minimize their spreading. Funding received for the successful "Stop Trashing the Blackstone" proposal will enable us to do thorough clean ups at the Blackstone Gorge (Blackstone), Fisherville Mill (Grafton), Fox Brook (Blackstone), Plummer's Landing (Northbridge), and Rice City Pond (Uxbridge) beginning this fall.

Photo was taken at the awards ceremony. Shown are BRWA officers Tammy Gilpatrick and Dona Neely (center), Rep. Neal and BRC partner Peter Coffin (right), and DCR partners John Dwinell and Val Stegemoen (left).
2010 Membership Campaign - Join or Renew Now!
The BRWA is commencing its membership campaign this month – your financial contribution is greatly appreciated! All donations received are invested in programs focused on protecting and restoring the Blackstone River and its tributaries. Thank you for your support.
Organic Lawns: Help Your Lawn Go "Green"
We will host our first Coffee & Conservation event on Saturday April 17th, 9:00 to 11:00 AM at the Riverbend Farm Visitors Center. The topic will be

Organic Lawns: Help Your Lawn Go "Green"

. Landscaper Dan Faulkenham will share his knowledge of how to have a beautiful yard without using chemicals that may harm children, pets and our environment. Topics covered include soils, nontoxic pest controls, insect control, and turf grass establishment and maintenance. Please RSVP by e-mail info@thebrwa.org or call 508-278-5200 if you can join us.

The "Coffee and Conservation" series will be held quarterly and will feature a guest speaker and conversation about what we can do to protect our local environment. Let us know what topics you would like to learn about! e-mail info@thebrwa.org or call 508-278-5200.
Earth Day Cleanup
Join the BRWA for our Earth Day Cleanup, Saturday, April 24th from 9am to Noon. Cleanup sites include:
Blackstone Canal at River Bend Farm, Oak Street in Uxbridge
Blackstone River, Providence Street (parking lot near Goretti's Supermarket) in Millbury
Blackstone Valley Bike Path (parking lot near Blackstone Valley Shoppes off Route 146) in Millbury
Mill River, Fitzgerald Street (Draper Mill area) in Hopedale
Mumford River, bridge area at intersection of Gilboa and Charles (downstream from Haywood Mill apts) in Douglas
Pizza and refreshments will be provided from Noon onwards at Riverbend Farm in Uxbridge.

For additional information or to sign up as a volunteer, e-mail info@thebrwa.org or call 508-278-5200.
CALENDAR OF EVENTS




3/20-3/21

Maple Sugar Days - Riverbend Farm info

3/27

Earth Hour 2010 - 8:30-9:30 PM info

4/8

BRWA Board Meeting

4/10

BRC Water Quality Sampling

4/17

Coffee & Conservation - 9:00 AM @ Riverbend Farm
Organic Lawns: Help Your Lawn Go "Green" RSVP

4/22

Earth Day

4/24

BRWA Earth Day River Cleanup volunteer

5/15

34th BRWA Canoe and Kayak Race info
IN YOUR COMMUNITY
Solar Farm in Uxbridge?
2/27/2010 Worcester Telegram & Gazette

UXBRIDGE — An array of solar panels may be cropping up on a West Hartford Avenue farm, as part of a larger, regional project proposed by a Scituate energy company.

Click here for the full article: Worcester Telegram & Gazette
OF GLOBAL INTEREST

Earth Hour 2010
Join with hundreds of millions of people, organizations, corporations and governments around the world in making a powerful symbolic call for action on climate change and a reduction in energy consumption.

How?

Simple. Switch off your lights on March 27th at 8:30 p.m. local time. By turning off our lights for one hour, we send a message that Americans care about this issue and want economic, energy and climate policies that reduce a dangerous dependency on foreign oil and ensure cleaner air, a strong economic future and a more secure nation.

Click on the Earth Hour logo above for more information.
Views & opinions expressed in linked websites do not necessarily state or reflect those of the BRWA.