Blackstone River Watershed Association
---
The Blackstone River Watershed Association (BRWA) was established in 1976 and has since played an instrumental role in cleaning up what was described as an "industrial river" in the 19th and 20th centuries. Although still threatened by industrial and increasingly residential pollution sources, the health of the Blackstone's river system continues to improve.
The BRWA's mission is to engage, educate and advocate for improved water quality in the Blackstone River watershed.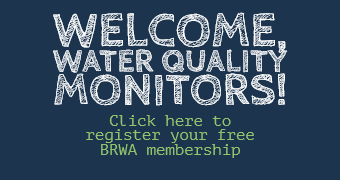 Upcoming Events
---
Water Quality Monitoring Summit and Volunteer Appreciation Breakfast: Saturday, March 30; 9:00am to noon
Blackstone River Valley National Heritage Corridor Visitor Center, Worcester, MA
3 Paul Clancy Way (GPS: 115 McKeon Road)
This year's presentations include:
- Coldwater fisheries resources in the watershed (Adam Kautza, MA F&W)
- The 2018 annual Report Card for the 75 monitoring sites from Worcester to Pawtucket
- Preliminary data analysis and outreach for BRC's coldwater monitoring sites
- Bacterial sampling proposed for the current season
- Updates on current issues affecting the watershed
For more information contact: Susan Thomas at acadia94@zoho.com
Blackstone River Watershed-Wide Cleanup: Saturday, April 13; 9:00am to noon
This year BRWA is doing something a little bit different! BRWA is working with and Blackstone River Watershed Council/Friends of the Blackstone (BRWC/FOB) in RI and Blackstone River Valley National Heritage Corridor (BHC) to organize a watershed-wide cleanup of water bodies in the entire Blackstone Valley . Both watershed groups are bringing volunteers together in both Massachusetts and Rhode Island to clean and help protect the rivers, streams, ponds and lakes.
There will be some dedicated sites chosen for cleanups, but volunteers are encouraged to adopt a site and/or adopt a storm drain in their community. Register at: http://CleanupBRWA.Eventbrite.com
For more information contact: Maggie Plasse at Maggie.plasse@gmail.com
State of the Blackstone Conference: Monday, April 29; 9:00am to noon
This workshop will highlight the historical importance of the Blackstone River Watershed. It will be held in partnership with the Narragansett Bay Estuary and the BRWA's partner organizations. This event will be held at the New Blackstone Heritage Corridor Visitor Center in Worcester.
Spring Full Moon Paddle: Saturday, June 15; TBD
Evening paddle under a full moon, along the Blackstone River.
Fall Full Moon Paddle: Saturday, September 14; TBD
Evening paddle on the Blackstone River under a Full Moon