Recreation
---
The Blackstone River Valley offers a variety of recreational opportunities.  Below is a sampling (Click on the + button to expand any of the listings below to get more information):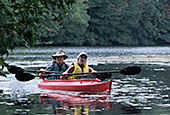 On the Water
---
There are many opportunities to get on the water in the Blackstone River Watershed. The Blackstone, Quinsigamond, Mumford, West and Mill Rivers in Massachusetts all provide navigable stretches for canoes and kayaks.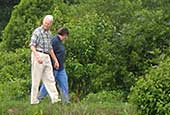 On Foot
---
There are many places to hike or walk in the Blackstone River Watershed. Here are a selection: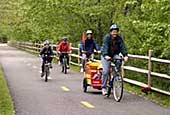 On a Bicycle
---
The Blackstone River Greenway, when complete, will provide a 48-mile bicycle trail from Worcester to Providence with connections to other existing or proposed trails including the East Bay Trail (Providence, RI to Bristol, RI) and the Southern New England Trunk Trail (Franklin, MA to CT state line in Douglas).
Blackstone River Greenway visit the Blackstone River Valley National heritage Corridor.