Water Quality Monitoring
---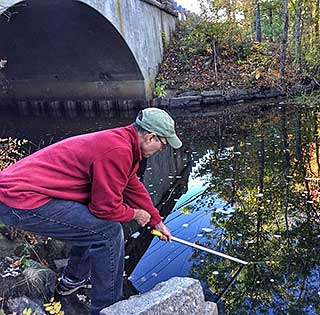 A volunteer collecting water samples.
The Blackstone River Watershed Association is in its thirteenth year of participating in the Blackstone River Coalition Watershed-wide Volunteer Water Quality Monitoring Program. With responsibility for 28 monitoring sites between Grafton and the Rhode Island border, the Blackstone River Watershed Association has been a major partner in this monitoring project that reaches 75 sites throughout the Watershed.
Field and laboratory volunteers are trained to do chemical and physical monitoring. Samples are collected at a designated site on the second Saturday morning of every month from April through November. Volunteers take water samples, temperature readings, depth measurements, and do a bit of chemistry (dissolved oxygen measurement) at the site. Samples are brought to a lab at Tri-River Health Center in Uxbridge, MA. where a group of lab volunteers tests the samples for conductivity, nitrates, phosphates and turbidity.
The data are used to promote better management of waterways and improve water quality of the watershed and its ecosystem, to develop the Blackstone Watershed Water Quality Report Card (PDF) and to achieve a Fishable/Swimmable Blackstone River.
Field and laboratory volunteers are always needed. Here's your chance to make a real difference by joining our group of dedicated citizen scientists working to monitor and improve the water quality of the Blackstone River and tributaries. Email BRWA Field Coordinator Mike Sperry if you can help.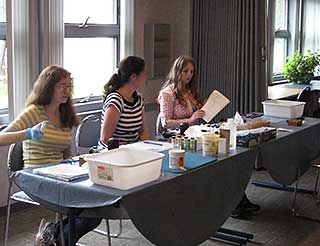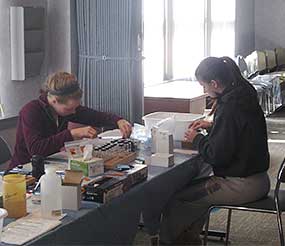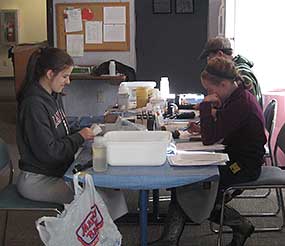 Volunteers analyzing water samples in the lab.